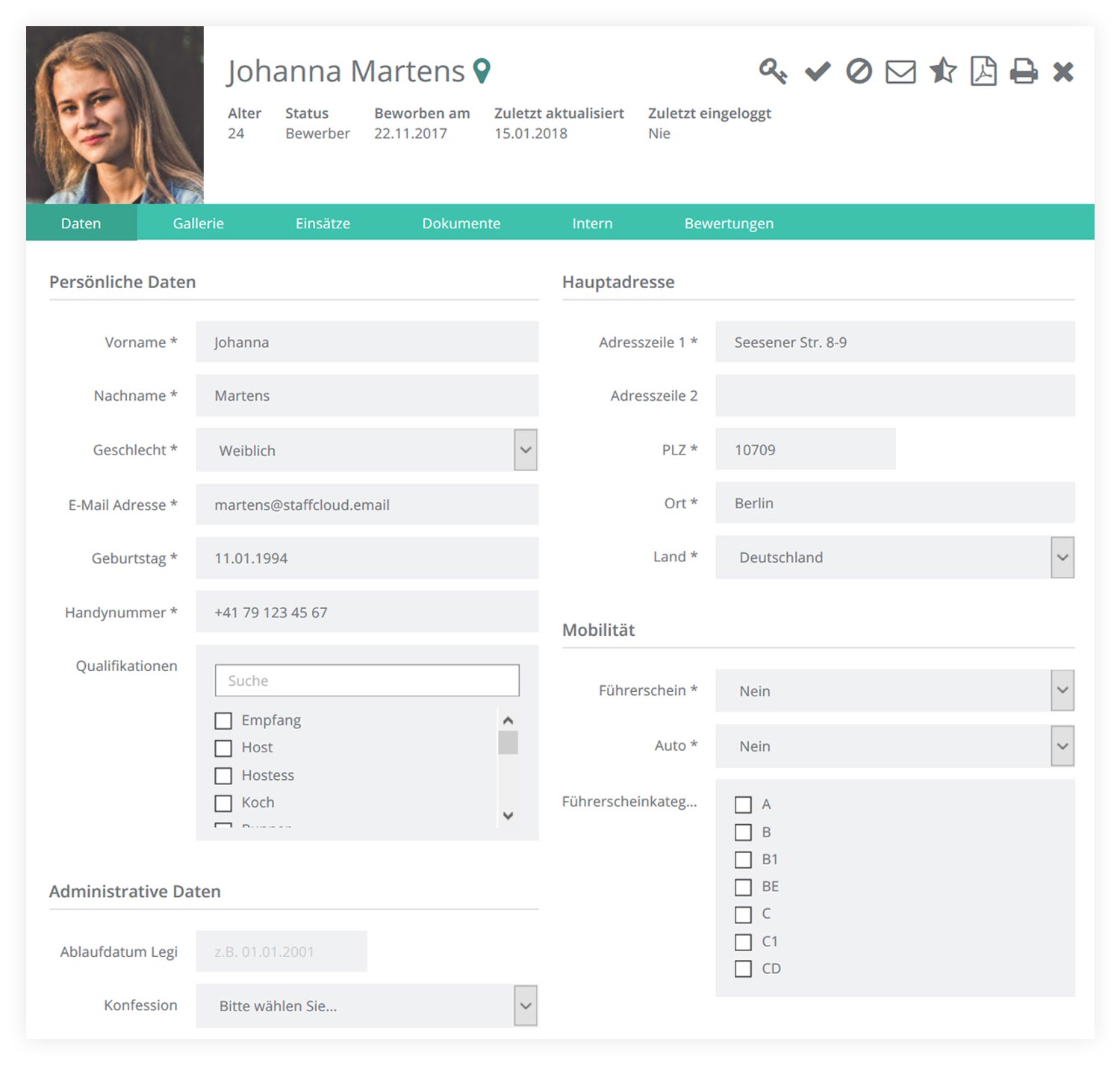 All data in one concise location
Define the data fields within the database
All employee data is easily found in the database and can easily edited.
The history shows which projects an employee has worked on. The relevant staff planning can be opened with just one click.
In the gallery, your employees' photos can simply and effortlessly be managed, as well as cut, rotated or resized.
Manage documents such as CVs, certificates or contracts in a separate document storage for every employee.
The wage profile of one or more employees can be modified with a single click at any time.
Your employee's calendar shows you instantly and independently from any projects if they are available. It can also be used to manage any holidays.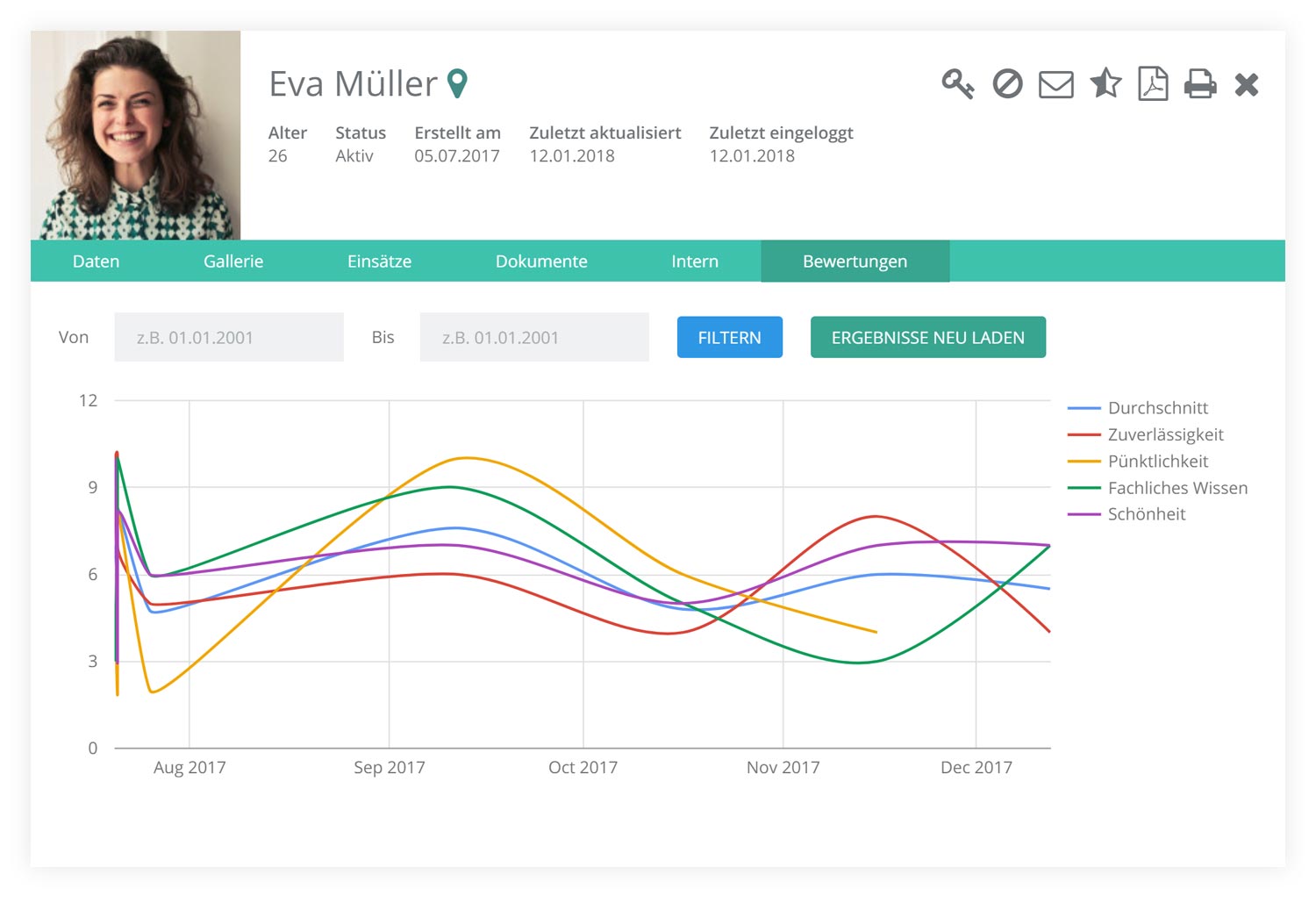 Enhanced quality through a rating system
In order to serve your clients with the highest possible quality standards, profound knowledge and feedback among your staff are essential. The internal rating system helps you find out which employees need help acquiring more knowledge in certain areas of expertise. Here, you can rate your employees by using customised criteria and see over a chosen period of time how an employee's ratings have evolved.
Daten gesetzlich konform verwalten und alle Aktionen nachverfolgen
Alle Daten liegen geschützt an einem Ort: der digitalen Personalakte. Sie entscheiden über Zugriffsrechte, wer einzelne Personaldaten einsehen und sie ändern darf.
Wissen was zwischen Ihnen und dem Mitarbeiter passiert ist. Schauen sie im Logbuch (siehe Screenshot) nach, welche Daten der Mitarbeiter geändert hat, wann er sich für einen Einsatz beworben hat oder welche E-Mail an den Mitarbeiter rausging.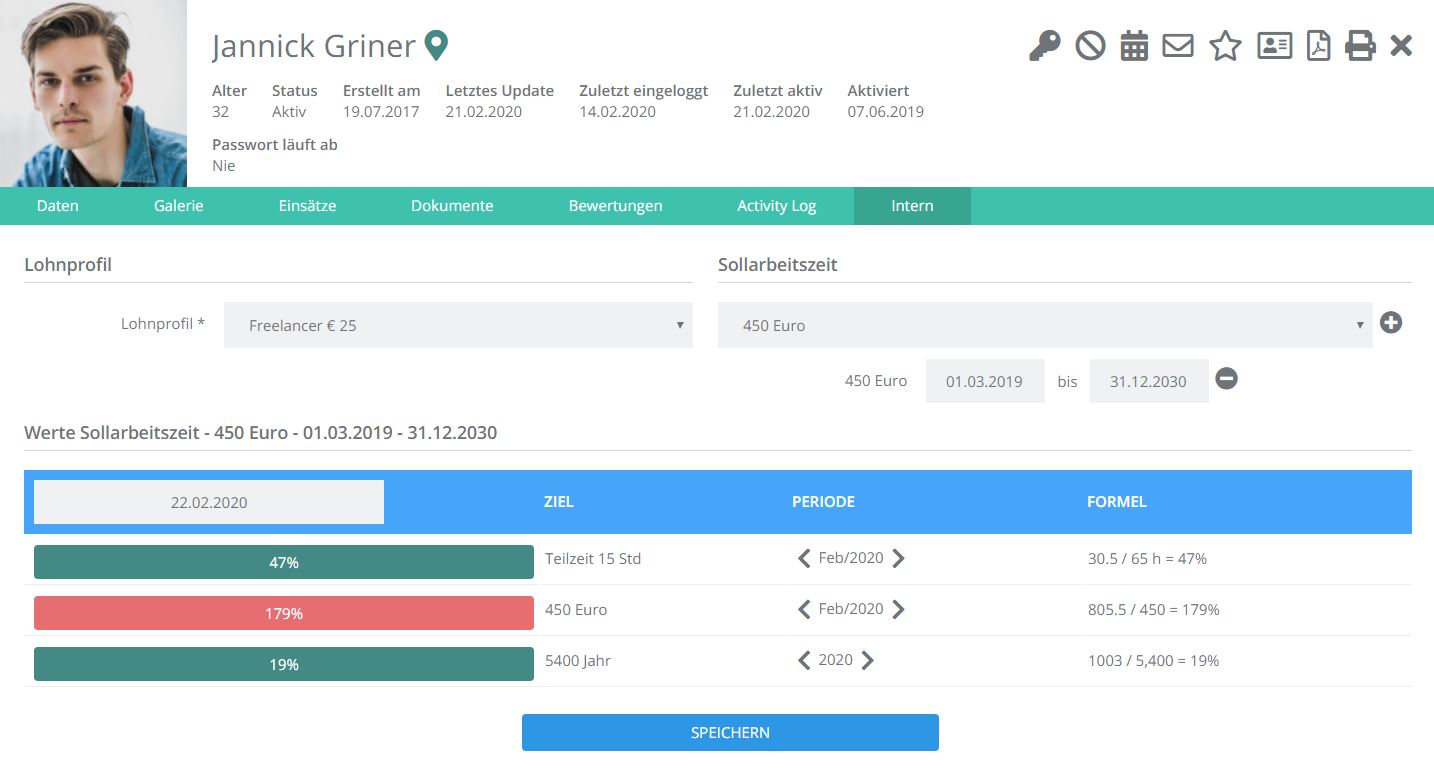 Das individuelle Arbeitsmodell des Mitarbeiters im Griff
Sorgen Sie dafür, dass die vereinbarten Arbeitsmodelle mit Ihren Mitarbeitern eingehalten werden. Folgende Arbeitsmodelle können sie sowohl in der Personalkte, dem Mitarbeiterkalender oder der Einsatzplanung überwachen:
Geringfühgige Beschäftigung (z.B. 450-Euro-Jobs)

Vollzeit (

z.B. Messung der Jahresarbeitszeit)

Teilzeit

Aushilfsmitarbeiter mit und ohne Stundenvereinbarung

Zeitlich befristete Anstellung (z.B. angestellt für 3 Monate)